Original Source: The Abottsford News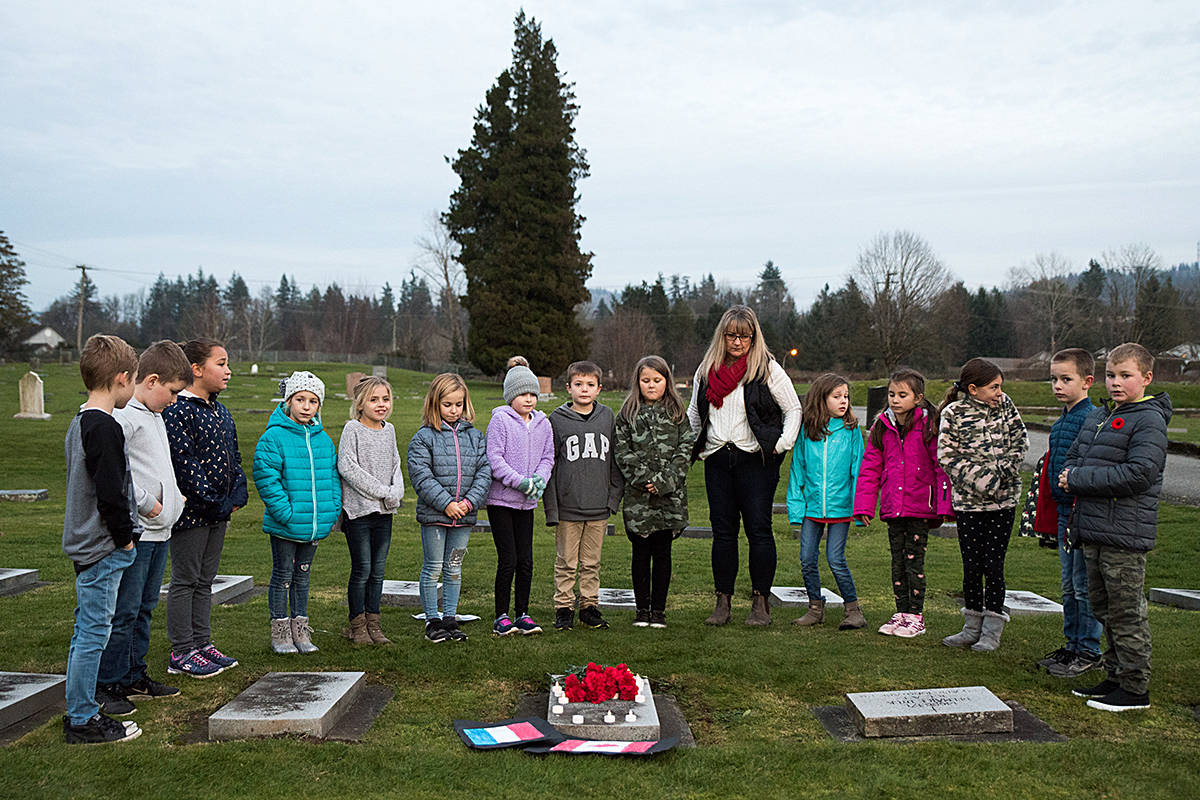 When one Abbotsford elementary school teacher received a batch of tulip bulbs from Agricultural Canada with instructions to plant them for the 75th anniversary of the liberation of the Netherlands, the flowers bloomed into a massive learning experience for her Grade 3/4 class, their parents, the community and even herself.
"I knew I had to plant them. But the thing is, I couldn't just plant them," said Debbie Mar of Upper Sumas Elementary. "The best knowledge takes place outside of these walls. That's where the real learning starts."
Every year, the Netherlands sends thousands of tulips across the Atlantic in honour of the Canadian soldiers who died liberating the country near the end of the Second World War. May 5 will mark that anniversary and Holland is sending 1.1 million tulips to Ottawa – one for every Canadian soldier who fought in the war.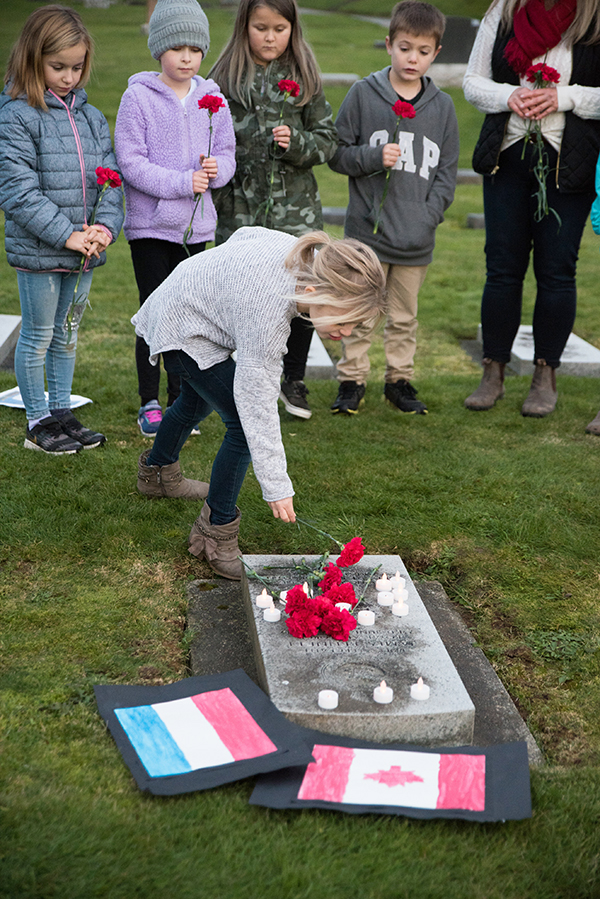 A student laying a tulip at the grave on one Abbotsford soldier killed in the Second World War. Ashley Martens photo.

Mar and her students have spent weeks on a class project learning – and educating – about the special relationship formed between the two countries.
What started out as a simple project has expanded into new friendships, a field trip to a local cemetery, a class-produced short documentary film, a Remembrance Day ceremony which brought one veteran to tears, the class learning to sing in Dutch and a Christmas concert.
The project began to grow when an unexpected friendship developed between Mar, a pacifist, and Sgt. Kelly Watson, the vice-chair of Abbotsford's Royal Canadian Legion branch.
Mar walked into the branch looking for a local veteran to speak to her class about the 7,600 Canadians who died fighting in Holland. Watson's uncle was one those men.
"I was stepping outside of my comfort zone," Mar said. "I thought, 'Oh my gosh, what am I going to do?' Because it was so awkward for me. 'I'm just going to stand over there by the [concession] stand.'"
The legion was in the midst of their annual poppy campaign and Watson said he immediately noticed that Mar "looked kind of lost." He initially thought Mar was just another teacher requesting to have one of the city's aging veterans present at a school ceremony.
"I was ready to say that we couldn't help her, and then she started talking about the project," Watson said. "The more I thought about it, the more it meant for me to be there."
Watson gave a speech to Mar's class shortly after. Mar said his words instilled the importance of the history the young students were learning.
"He spoke with such gentleness and such knowledge," Mar said. "It was unscripted and it was absolutely beautiful. It was like he had been practising what he was saying for years."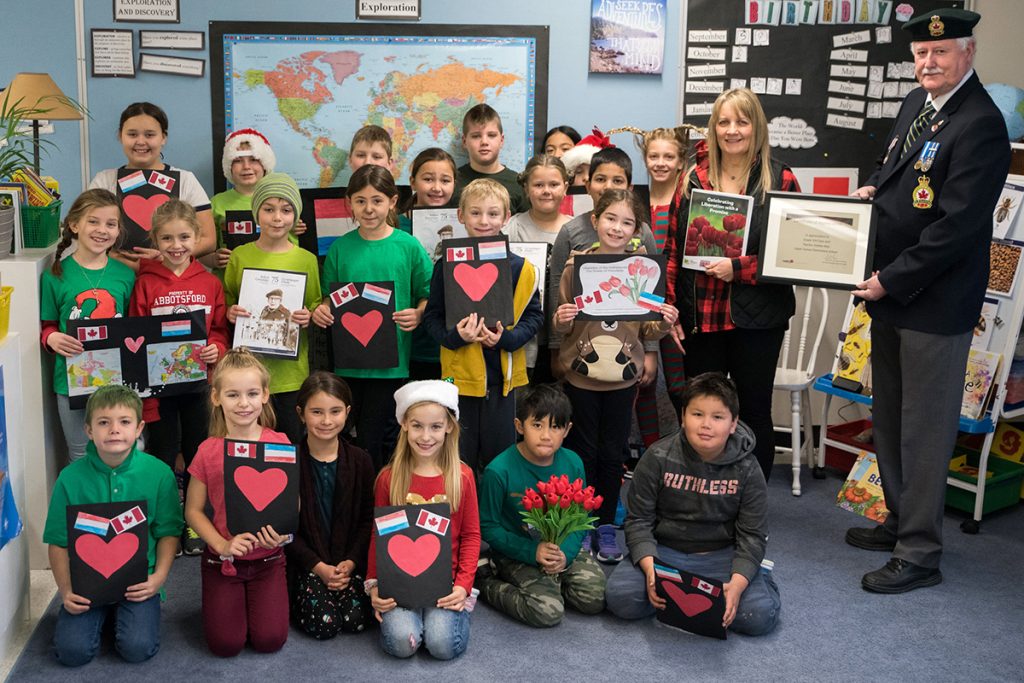 The Grade 3/4 class with Mar and Sgt. Kelly Watson. Ashley Martens photo.

After he had finished, the class was determined to expand the scope of the project.
"We were going to educate the public about this event in history and acknowledge the soldiers," Mar said. "We in Abbotsford, want to try and find out who these people were and put a story to their name."
She informed the parents she was organizing a field trip to Hazelwood Cemetery to find the graves of the four soldiers from Abbotsford killed during the war.
"It's not very often that you take a group of children on a Friday night to a cemetery in the dark. And yet, the parents seemed to realize that this was important learning because they were so supportive," Mar said.
The students laid tulips, tea candles and artwork at the base of their headstones. They rubbed crayons on parchment placed over the soldiers' nameplates to take home their imprinted names.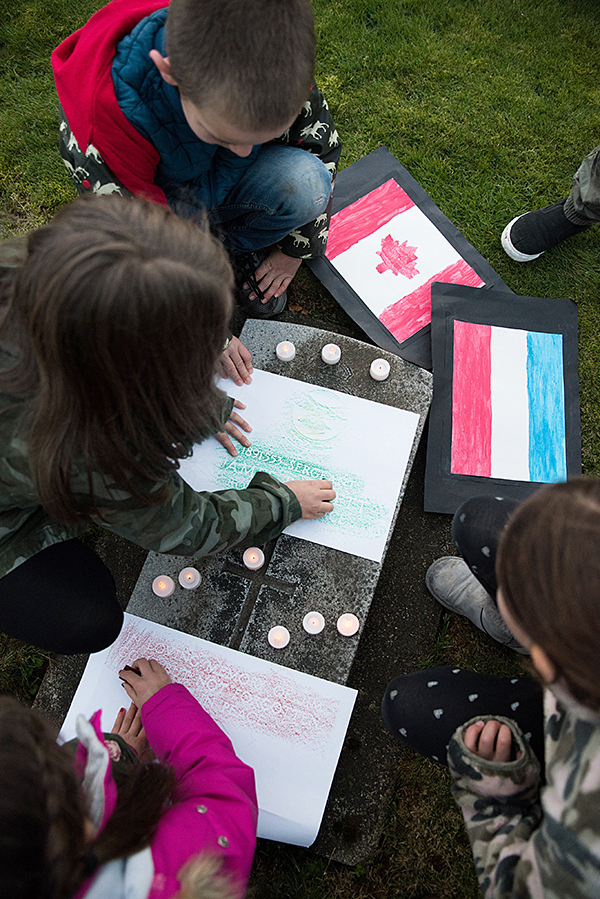 Students imprinting the name of a Canadian soldier by rubbing crayons over a pice of parchment. Ashley Martens photo.

As he traced over the letters, one student said he imagined what the solider must have felt.
"You cannot just do that and not start connecting with people. There's something very intimate about it," Mar said.
Two parents were also enlisted on the field trip to expand the project through film: Rhys Martell, who has experience producing videos, and Ashley Martens, a photographer.
Martens and Martell said Mar knows which parents have the skills to help her teach her class, and she utilizes them.
"She knows what she wants and she knows who all her people are… When she gets an idea, the ball starts rolling," Martens said.
Martell said Mar is one of the best teachers in the school because of the unique way she teaches.
"Creativity deepens the learning experience," he said. "Those are things that are going to stick with those kids. They're never going to forget [the field trip] their whole entire lives."
Upper Sumas Elementary ended up with two veterans at their Remembrance Day Ceremony on Nov. 8. Watson not only cleared his schedule, but he brought along a veteran of the Korean War, John Molner.
Molner was brought to tears by the students' presentation and letters of gratitude.
"He was so overcome with emotions," Mar said. "It was this bridging of the old and the young through history. The students made a difference in the life of a veteran who probably has a lot of horrible images [in his head]. I was hoping that day, that moment, would mix in with those images and provide something positive."
The class debuted their film project at their school's Christmas concert on Tuesday (Dec. 10).
Because children in Holland attend the graves of Canadian soldiers every Christmas Eve to sing Silent Night, at the concert Mar's Grade 3/4 class did the same – in Dutch.
Video produced by Rhys Martell: