The History of Canadian Commemoration Events
History of Canadian Commemoration events organized by Dutch-Canadians to commemorate the Liberation of the Netherlands by Canadian
veterans.
From Operation Thank You Canada in 1970 to Dutch Liberation 2020 Canadian Society
Dutch Liberation 2020 Canadian Society was incorporated under the Societies
Act on August 31, 2018 in partnership with the Royal Canadian Legion and the
Netherlands Association "Je Maintiendrai" – Dutch Network. The Directors of the
Society include representatives from the Canadian Association for the
Advancement of Nederlandic Studies (CAANS); the Dutch Business Club (DBC),
Vancouver and the Netherlands Association "Je Maintiendrai" – Dutch Network
and Canadian citizens dedicated to supporting the purpose.
A Time to Awaken Memories and Forever Seal the Bonds of Friendship
In doing some research, other Dutch-Canadians have also undertaken a similar venture to acknowledge and recognize Canada's efforts as per the 25 th Anniversary, 50 th Anniversary and 60 th Anniversary.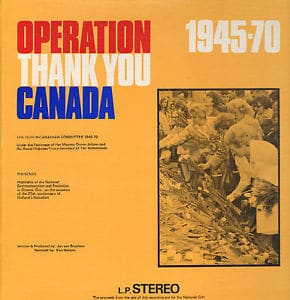 On the occasion of the 25 th Anniversary, a Dutch-Canadian Committee 1945-70
under the Patronage of Her Majesty Queen Juliana and His Royal Highness Prince Bernhard of The Netherlands created "Operation Thank You Canada".
Highlights of the National Commemoration and Festivities in Ottawa on the occasion of the 25 th anniversary of Holland's liberation were documented on an L.P. Stereo Music Album written and produced by Jan van Bruchem and Narrated by Ken Haslam.
In May 1995, to commemorate the 50th Anniversary, William Zylmans, (father of Adriana Zylmans), Hans Steen, Gerry Bouwman, and Hank van Ness were the directors of the Holland Revisited Society 1945 -1995. They coordinated and sponsored the sending of 35 Canadian veterans to return to the Netherlands to witness the expression of thank you by the Dutch people to Canada and its Canadian veterans.
To reflect on 60 years of Freedom in 2005, six British Columbia regiments, which helped liberate the Netherlands in 1944 and 1945 from its brutal Nazi oppressor, each received an oak-mounted plaque commemorating the country's regained freedom. Okanagan-based Dutch-born sculptor Geert Maas made the bronze plaques. The Dutch-Canadians Enjoying 60 Years of Freedom group lead by J. Herman van Wermeskerken also held a "Host a Veteran" dinner party in Vancouver.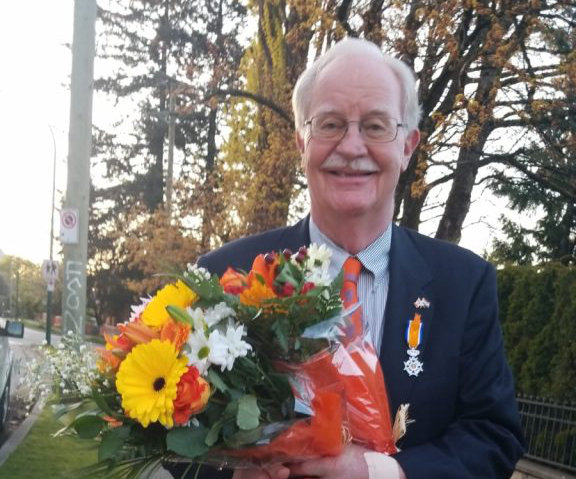 On April 27, 2022, Erik van der Ven received a Koninklijke Onderscheiding from his Majesty, Koning Willem Alexander of the Netherlands and became a member of the Order of Oranje-Nassau. Erik van der Ven has served the Dutch Community in the Vancouver Lower Mainland of British Columbia in various capacities
Read More »