Bouquets of tulips are dropped off at Chilliwack General Hospital on April 22, 2020, as a commemoration of the Dutch Liberation by Canadians 75 years ago. The flowers were donated to health-care workers and care home residents, including war veterans. (Fraser Valley Health Care Foundation)
5000 tulip bouquets donated to front line workers, war veterans and residents in senior care
Thousands of tulips tied up in bouquets brightened a rainy April 22 in the Fraser Valley and lower mainland.
They were planted by Van Noort Bulb Co. Ltd., specifically on behalf of the Dutch Liberation 2020 Society, and were delivered to more than 20 care homes, retirement residences, and hospitals throughout the Lower Mainland.
This is the 75th anniversary of the Liberation of the Netherlands by Canadians, and is a time celebrated by both countries.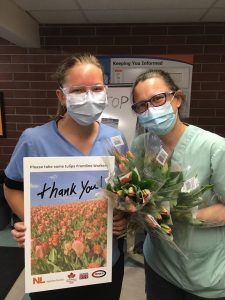 With grant monies received from private and corporate sponsors, Veterans Affairs Canada, the City of Chilliwack, City of Burnaby, and the City of Langley, the bulbs were planted by Van Noort. Now bouquets of fresh tulips have been given to thank front line health care workers during COVID-19. They brought smiles to the faces of health-care workers as they were safely delivered at hospitals in Hope, Chilliwack, Abbotsford and Mission.
They are also sure to delight to senior residents in care homes who are currently isolated from their families. The flowers are meant to honour Second World War Canadian veterans who helped to liberate the Netherlands and achieve Victory in Europe, 75 years ago.
"The Dutch Liberation 2020 Canadian Society and the Vancouver Consulate of the Kingdom of the Netherlands extend their gratefulness to care homes and front line workers for caring for veterans and senior alike," they said in a press release explaining the donations.
"Thank you Canada, for the veterans who sacrificed their lives to save the lives of the Dutch. We will remember them! And to all front line workers, you are a gift to many. Thank you!"
On April 11, 2019, the Parliament of Canada approved a private members bill and declared May 5 to be Dutch Heritage Day to recognize the contributions Dutch-Canadians have made to the fabric of Canada.