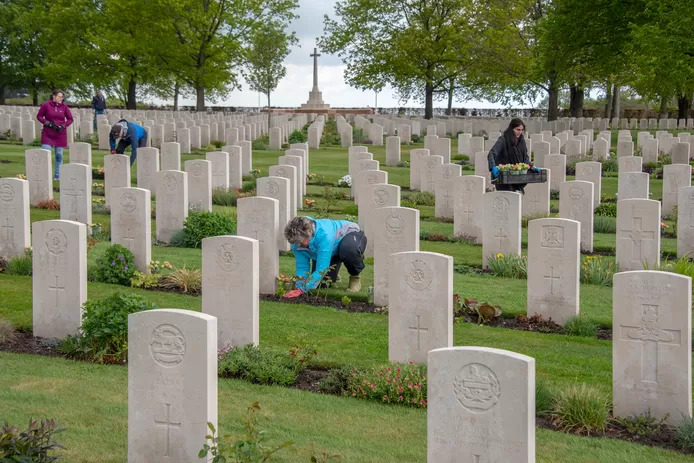 Source: De Gelderlander
GROESBEEK – It remains very quiet around the 2610 graves on the Canadian cemetery in Groesbeek. If it wasn't for the coronacrisis, there would be three days full of remembrance, since the liberation of the Netherlands is 75 years ago. 
The official start of the activities would have been Saturday, Canadian representatives would have been on site on Sunday, among them even a few veterans.  The actual Dutch National Commemoration is today, Monday the 4th. 
"This should have been different", Canadian military diplomat Tim Young said; "but next year we will be here again with a great remembrance: 75 Years of Freedom plus 1."
To honour the fallen Canadian soldiers, thousands of tulips are placed on the graves in Groesbeek; a vase full of tulips for each and every one of them.  Employees of the Canadian embassy helped, as did volunteers of the "Faces to Graves Foundation". 
Missing soldiers
On the Groesbeek Memorial cemetery plaque listing over a thousand names of Canadian soldiers who are still missing, there are two wooden crosses and a small wreath, including a picture of Frank Lock, who died on May 1st, 1945.  His body has never been found. 
Alice van Bekkum, president, Faces to Graves Foundation mentioned that Frank Lock's family wanted to place this wreath here; they especially sent it to us and we have placed it here." 
Monique Greup-Diesfeldt is one of the volunteers who helped with the placement of tulips on the Canadian graves.  She has translated 22 biographies of soldiers thus far.  The Foundation wants to give all the fallen soldiers a face and an identity that lie at Groesbeek cemetery.
"It might be weird, but I feel connected with these 22 boys now.  They were so young, many of them from the countryside.  One of them, a 19-year old from Winnipeg, who had been to school for 5 years, wrote that "his motivation for joining the military was to seek 'adventure', but instead, he ended up in hell".  Although, there won't be a commemoration service here on Monday, I'll go anyway, just even for a little while, I want to do something."